'La chose la plus importante dans la vie sont les rencontres'

Hungarian Roots

Feri (Ferenc) Varga was born 1906 as one of ten children into a wealthy family in what was then Hungarian village Terézföld, now called Terezino Polje in Kroatia, just at the border to Hungary. His father, Josef, was a landowner and entrepreneur, mother Cecilia was from a wealthy family from Vienna. His parents did not support artistic ambitions, but his granduncle, Jozsef Kiss (1843-1921) was one of the most distinguished Hungarian poets of his time and his oldest brother Hugo also was poet.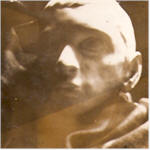 The wife of Hugo, Ida Moricz, an accomplished sculptor and sister of Hungarian novelist Szigmond Moricz, was an important early influence for Feri Varga. She described her life in the book 'Heten Voltunk' ('We were seven').

The family moved to the Hungarian city of Pecs in 1910 and to Budapest in 1918, while the family fortunes gradually eroded. Feri Varga had ambitions to become a sculptor from early on and trained in Budapest with an Italian stone mason and with a self-taught sculptor called Miklos Krivaci. In 1924 he won a price from a Budapest newspaper for the portrait sculpture of a woman that supported a six month stipend to study at the 'Ecole des Beaux-Arts' in Paris.

Parisian Years

In the 1920s, Paris was a haven for thousands of Hungarian ex-patriats, most of them fled the fascist Horthy regime in Hungary. These Hungarians in Paris created a tight-knit community with Hungarian language newspapers, theaters etc.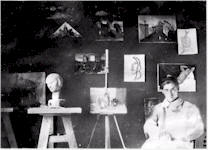 The regular meeting points and centres of activities were the various cafes in Paris, especially the Cafe Rotonde, later the Cafe Dome. Eminent Hungarians in this scene were the artists Lajos Tihanyi, Etienne Hajdu, and Arpad Szenes (who was married to the artist Vieira de Silva), the photographers Ervin Marton, Brassai and Kertesz. Encouraged by this stimulating atmosphere, Feri Varga decided to stay in Paris after his stipend ran out, and he continued artistic studies at the 'Arts-et-Metiers'. There was an economic boom in Paris in those years, and it was relatively easy to find work.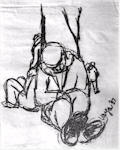 Feri Varga worked first at a Citroen car plant, and later as a truck driver delivering chocolate in order to support his studies. The marriage to Josephine Kalmar, a Hungarian Pianist of wealthy background, in 1929 allowed Feri Varga for the first time to completely dedicate himself to his own art. He switched to painting and drawing, and became a regular caricaturist for the leftist journals 'Monde' and 'L'Intransigeant' in the 1930s. Especially his connection to the 'Monde' (which was founded by the communist writer Henri Barbusse) brought him into close contact with many eminent intellectuals of his time, such as writer and art historian Aragon, and film composer Joseph Kosma (perhaps most famous for his song 'Feuilles Mortes' –Autumn leaves- to a text from Prevert). The poet Jacques Prevert would become a friend of Feri Varga with time. The writer and journalist Imre Gyomay was another close friend of Feri Varga and wrote articles about Varga, who in turn illustrated novels of Imre Gyomay. These exhilarating times were finished as soon as the Nazis occupied Paris. Feri Varga was forced to flee Paris because of his association with the leftist journal Monde'.

Encounters on the Côte d'Azur

The flight from the Nazis led first to Lyon where Feri Varga stayed for one year and earned a living as designer for silk garments.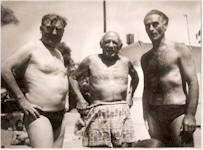 He finally moved to Cagnes Sur Mer at the Côte D'Azur where he would live in a beautiful studio in Haute Cagnes from 1941 to 1961. By now he was divorced from his first wife and remarried to a Hungarian actress, Illa Veres Schreiber. The south of France became something of a safe haven for many artists and intellectuals that fled the Nazis and a tight-knit community of like-minded developed in Cagnes and surroundings. The neighbour of Varga was the author Manes Sperber, whose home was meeting place to listen to the BBC news in secret.

The move to the sunny, colourful South would have a dramatic impact on Varga's art. This transition was also fuelled by encounters with the many artists and writers that made the South of France their home, including Marc Chagall and Henri Matisse.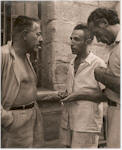 Through his close friend, writer and poet André Verdet he got to know Pablo Picasso in 1946.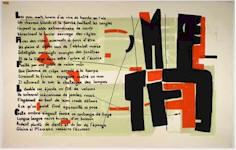 Picasso asked Feri Varga to organise an exhibition in the 'Musée Grimaldi' (now 'Musée Picasso'), Antibes, together with Francoise Gilot. This was followed by invitations to exhibit his work in solo shows in the Musée Picasso, in the Gallery C. Allendy and elsewhere. An important encounter was with Jean Cocteau, also in 1954. Jean Cocteau asked Feri Varga to illustrate or accompany 20 of his unpublished poems, in a similar way as Varga did with Andrè Verdet before. All poems are 'Hommages' ('Hommage a Picasso', 'Hommage a Kafka', 'Hommage a Rilke' etc) and Varga wrote out and accompanied each poem with a graphic using lithography.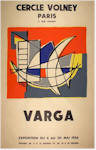 A limited edition was prepared in book form, each page was countersigned by Cocteau and the work was exhibited in 1955 in the Chateau Grimaldi in Cagnes.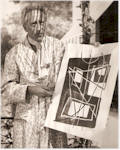 This exhibition became a turning point in Varga's career and he started to exhibit his work not only in France (for example, the 'Cercle Volney'), but also in Germany (Folkwang Museum, Essen, Kölnischer Kunstverein) and Sweden. In Cagnes he also met who would become his third wife, the German Leonore Bässler. He married her in 1961 and moved with her to Neustadt/ Weinstrasse, a provincial town in Southwest Germany, Palatinate, close to Heidelberg and the French border.


A new life and new art in Germany

The move to Germany proved initially hard on Varga's art, with the sudden isolation of a provincial town and the change of light and life.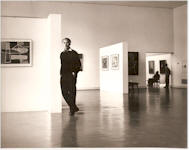 However, his visits to the then virgin, almost jungle-like forests in eastern Bavaria and the expose to scientific images through his wife, a chemist and his father-in-law, a chemist and biologist provided new inspirations that led to a change in style. What inspired Varga were the tangles both of the forest as well as the images from micrographs of cells, fungi etc. He developed a unique technique using hemp dyed with colour to create complex, multilayered 'paintings'. In Germany he also started again to produce sculptures in wood and metal.

The late works of Feri Varga are very original in that even though they have a tachistic element, they reflect Feri Varga's appreciation of the aesthetics of the natural world in its diverse dimensions, such as microscopic or aerial photographs. He stated that his art was not abstract, not non-figurative, rather his art documents his response to nature.

Feri Varga died 1989, aged 83. He left behind his wife and three children, one of which Paloma Varga-Weisz is a respected artist on her own right.